"Komakawa River Festival" Komagawa Wrestling
2018.07.25
July 22 (Sun) "Komakawa River Festival" Komagawa Wrestling was held.
In the hot weather every day, it became a lot of hands that we could not watch.
"A ring in a shopping district?"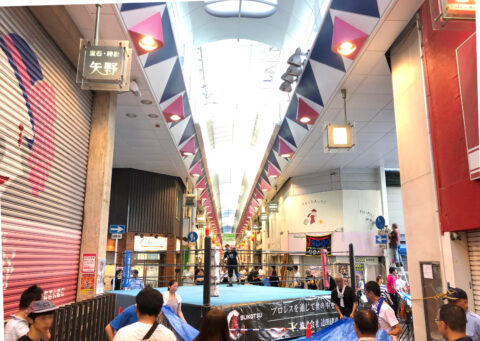 What a special ring set up at the intersection in the shopping street!
Japan Wrestling 2000, Osaka Wrestling, etc.
A gorgeous member gathered from each group and a battle of four games was held.
① Togi Todo, Masaya Sasaki vs Nuishibo Mask, Koji Sudo
JWF Certified Tag Championship
② Taco Yakitor, Ultimate · Spider Jr.vs Yoshiaki Iwata, Takaya Shibayama
③ Ajakong vs Kaori Yoneyama
④ Moriya Hiroaki, Magnitude Kishiwada, Gammavs Billyken Kid, Mitsumi Masayuki, Ishida Kanji
Ajakong × Yoneyama Kaori
Outbound brawl in shopping district! !
Osaka wrestling's Kusatsubo mask
Billyken Kid
Ultimate Spider Jr.
Gamma
マクドナルドのドナルドも⁉
I could finish safely without big trouble!
Everyone who came to the day, everyone who sponsors cooperation, everyone in the area who cooperated,
Thank you very much for everyone involved in the professional wrestling.